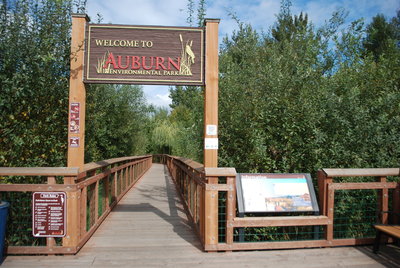 I saw my first goldfinch of the season this week at the Auburn Environmental Park. It was a double delight. I love the bright yellow gold finches. I was also not aware the park had opened last week. Over the winter I've been driving by a couple of times a month to see how the work there was progressing. But a few weeks ago there were still gaps in the boardwalk and a fence surrounding the entrance. Now it's open and completed. I took my young niece and nephews on the walk on Wednesday, April 11, 2012 to celebrate. The boys were on spring break and I had a day off. We had liquid sunshine which is common in King County, Washington but it was just drizzling so we were undeterred. Here is our short tale and my review of the Auburn Environmental Park.
The park is on Western Avenue, off Main Street in Auburn Washington. A bird tower has been there for a few years. I wrote a review of it when I first found it. Then a plan was devised to improve it and the park was closed. I've been missing the opportunities to go to relax for almost eight months. We pulled into the park with excitement and delight. There are about four neat parking spaces in the front of the bird tower.
The original sign board is still up, from when the bird tower was built a few years ago. There are some fine pictures of the birds we might see on this tour. A new picnic area is just in front of the bird tower now. I wished we would brought some lunch, but I had not planned on it so we just looked at the boards, the old one and then the new one.
The new sign board announces that the length of the trail is .23-miles each way. It's also marked easy. This sign is place just at the entrance of the park, right after the birding tower. The tower is two levels. The boys raced up to the top level immediately. Their aunties knees was not up the to trying the steps so I took the level ramp to the first level with my little niece. Trees and bushes surround both levels. The little birds were singing full blast. We could almost ignore the freeway across the field. Traffic is pretty loud but we pretended it was far away. The boys came dashing down and we started down the boardwalk.
Within a block there are four benches and four viewpoints so this is a truly easy walk. There is some swampy area, many new bushes and trees and plants. The boys were sure they saw a beaver but I think that was the excitement of youth. I hoped to see a blue heron but did not have any luck. There are several interesting signs posted along the way. Some parks have viewing scopes but there were none on this path. We did not bring our binoculars because we forgot them. There was still plenty to see. We walked slowly for my sake and for my three year old nieces short legs. She got a little chilly so I wrapped my sweater around her. It trailed to the tops of her shoes. But she said it helped warm her up so that is what counts.
The trail ends at Main Street in Auburn. We turned around and walked back, stepping over the grass already growing through the cracks of the boardwalk. Birds called. The traffic from SR-167 melted into the background. We did not have to stop once for anyone to catch up.
Back at the bird tower I pushed my knees into action and my niece took off my sweater and we all climbed to level two of the bird tower. It was lofty and fun and we might have stayed for a while longer. But other patrons arrived and I did not want our excitement to distract them if they were serious bird watchers. So we left.
But we will be back, I am sure. The Auburn Environmental Park promises to be a fun, interesting and exciting place to go. There is no play equipment but imagination is rampant. This is a great park for serious adult bird watchers and for families. I think it's going to be a favorite place of mine. If you are ever in Auburn, Washington check it out. If you are a bird watcher you will be delighted with it. Enjoy.