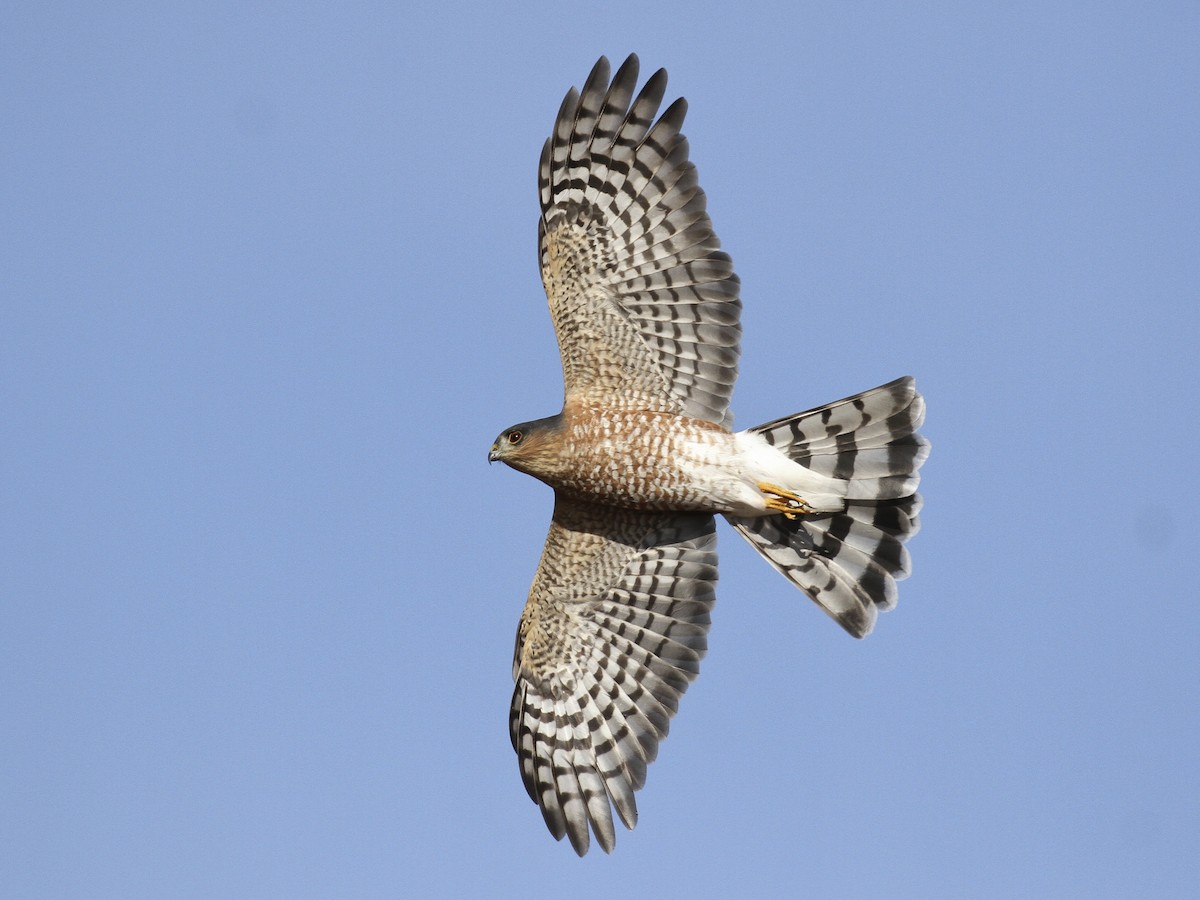 A hawk recently grabbed a bird right at my front window. I knew that it was only a matter of time. It had been perching in the pine tree where we have most of our birdfeeders for quite awhile. This is not normal behavior. Hawks usually do not hang out close to our home. They will fly around occasionally looking for prey, but they do not perch in trees so close to the house. (Perhaps the snow and frigid temperatures are causing them to modify their behavior.) Also the blue jays are not around as much to sound the alarm. [See: Bird Watching: Blue Jays] Whatever the reason, this hawk finally got something to eat not more than 5 feet from the front of the house. As I watched it sit for a moment in my front yard before flying off with its prey. I thought at first that it was a Cooper's hawk [see: Bird Watching: Cooper's Hawk]; however, I realized that it was actually a sharp-shinned hawk.
The sharp-shinned hawk (Accipiter striatus) is often confused with the larger Cooper's hawk. Their coloring is very similar; however, the sharp-shinned hawk is only 10-14 inches, about the size of a blue jay. It also has a squared-tipped tail unlike the Cooper's hawk more rounded one. In addition, the sharp-shinned hawk has a smaller head. Adult sharp-shinned hawks have blue-gray upperparts and reddish or rust-colored underparts. The coverts under the tail are white while the tail itself has barring.
The sharp-shinned hawk's breeding range is from Alaska across Canada to Newfoundland and also in California, New Mexico, the northern Gulf States, and the Carolinas. They winter across the United States and into British Columbia and the Canadian Maritimes.
The female sharp-shinned hawk, which is larger than the male like all North American hawks, lays 3-8 white or pale blue eggs with large brown patches once during the breeding season. Both the female and the male incubate the eggs for 21-24 days, and the fledglings leave the nest about 28 days after they hatch.
The sharp-shinned hawk is normally silent; although, it will make a sharp kik-kik-kik-kik sound when defending its nest. It will also on occasion emit a shrill screech.
These hawks can be found in woodland areas, especially those with pine trees and other conifers. There are several pine trees in my yard, which attract sharp-shinned hawks. Its short narrow tail and rounded wings enable it to weave quickly through trees, making sharp turns, in pursuit of its prey, primarily other birds. It does also feed on some insects and small mammals.
The sharp-shinned hawk is the most common species of hawk. Its numbers, however have been declining over the last few years in the eastern part of its range. The may be due in part to the decline in the populations of the birds upon which it preys, ranging from sparrows to starlings. You can help to create a habitat that will attract these hawks by planting pine trees on your property. However, you might be witness to an attack on some of your other birds from time to time, just as I was.