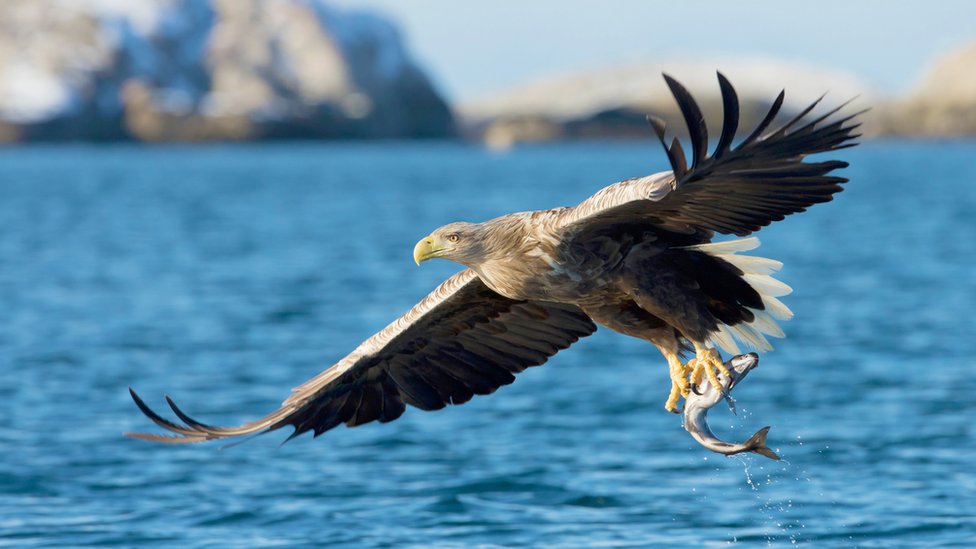 The White-tailed Eagle (Haliaeetus albicilla), sometimes referred to as the White-tailed Sea Eagle, or simply the Sea Eagle, is a raptor of Greenland, Iceland, and much of Eurasia. Like many raptors the species has suffered from habitat loss and serious persecution, and has been extirpated from parts of its range. Adult birds are solitary or travel in pairs, while young birds may roost together in small flocks.
White-tailed Eagle Habitat
Haliaeetus albicilla frequents habitat near water: lakes, rivers, and shallow marine coastal areas. It prefers to nest in mature trees that can withstand the weight of its nest, which can reach massive proportions. The species is intolerant of humans and prefers secluded wilderness, possibly because of past persecution.
Hunting and Diet
A hunter that prefers to take prey near the surface in shallow water, H. albicilla eats mostly fish and water birds. It sometimes takes small mammals, such as otters and rabbits, and also feeds on carrion, especially in winter when other food sources decrease.
Like other birds of prey, the White-tailed Eagle has been accused of killing livestock and this accounts for much of the hatred directed at it. While the bird does occasionally kill lambs and kids, and steals from commercial fish farming operations, most reports of feeding on livestock involve carrion.
Breeding and Nesting
White-tailed Eagles mate for life and breed at about five years of age. Their courtship flights are known for a spectacular display where the pair locks claws and spins in descending cartwheels until they are near the ground.
Like the Bald Eagle of North America, the White-tailed Eagle builds a nest of sticks in a large sturdy tree and lines it with softer grassy vegetation. The pair returns to the same nest each year, adding to it over time so that it can become very large. Two or three chicks are raised each breeding season, with the female doing most of the incubating, and feeding the chicks food provided by the male. When chicks are large enough, she helps with the hunting. Chicks fledge after about three months and stay with their parents for another five to six weeks.
Threats to the White-tailed Eagle
In 1988, the species was considered threatened and it is now protected in many regions. Factors in its past decline and current threats include:
Persecution – shooting and deliberate poisoning
Electrocution/collision with power lines
Loss of habitat – forestry and wetlands destruction
Loss of nesting sites due to forestry
The IUCN estimates the population in Europe today to be about five to six thousand breeding pairs, and now considers the species as one of "Least Concern."
Reintroductions
The White-tailed Eagle was extinct in the United Kingdom by the early 1800's, but a reintroduction program started in 1975 has been successful. Young birds brought from Norway are released into the wild and are now breeding in Western Scotland with a current population of about two hundred birds.